Outdoor…
Cabo San Lucas offers a wide range to enjoy its natural resources. You can walk barefoot on the sand, ride a horse, contemplate the flora and fauna, take a photographic or video safari, and above all acquire an important ecological conscience. Desert, dunes, cactus and an abundant marine fauna with estuaries where turtles and mammals like the gray whale live, await the visitor to enjoy all the beauty of the environment.
Other tourist activities:
Visit to beaches
Horseback tours
Camel Tour
Rappelling and rock climbing
Hiking and camping
Tour to the Arc
Swimming with dolphins
Motorcycle tours
Skydiving
Surfing
To practice surfing you need big waves and high speed winds. In Los Cabos, the visitor will find the best places for the adventure of this sport, challenging its ability in beaches that break waves offshore. The main areas that are recommended to live the emotion are: Boca de la Vinorama, El Medano, Costa Azul and Acapulquito.
Navigation
The area of ​​Los Cabos has a huge fleet of special boats where you can go on a pleasant day of fishing, either sporting or just to contemplate the rich variety that in these waters jump in sight. The Marina has 380 individual docks and countless boats and yachts, with everything necessary in service and equipment, to enjoy navigation. Opposite her, in the heart of Los Cabos, is Puerto Paraíso, one of the largest commercial plazas in the country, offering restaurants and businesses, being a typical meeting point for all tourists.
Diving
Los Cabos offers a huge variety of underwater landscapes for scuba diving or snorkeling, from a snorkeling practice on expeditions near the shore, to see bright and multicolored fish, to venturing into underwater caverns or sunken ships, all that a diver curious or daring would seek, here he finds it. Located in the Eastern Cape is the Cabo Pulmo National Marine Park, just over 60 km. from San José del Cabo. This important place is interesting for the tourist influx, but also for its quality as an ecological reserve being a gigantic biosphere reserve. Its main attraction is to be the only hard coral reef of the American Pacific and one of the three living corals of North America, with an estimated age of 25,000 years, this reef is arranged in four parallel blocks. Diving can be done in four places within the reserve: El Islote, Brazos del Arrecife, Los Cantiles and El Bajo.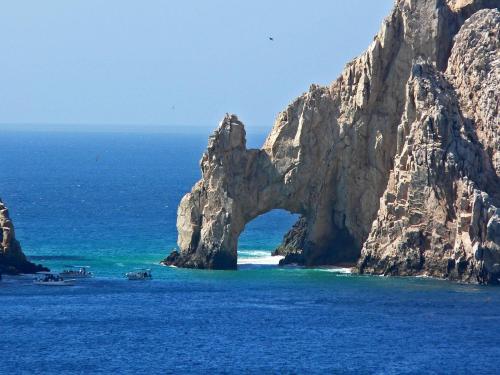 Discover Cabo
Learn more about Cabo San Lucas, a splendid world-class port.