Cabo San Lucas is one of the most important cities of the municipality of Los Cabos, Baja California Sur; Due to its geographical location and incomparable beauty, this city has become one of the most important and exclusive tourist destinations in Mexico.
Los Cabos is a splendid, world-class port. From the decade of the 90 began the boom of this beautiful place that today offers more than 100 hotels, from the economic ones to the gigantic Hotels Gran Turismo, Special Category and of Super Luxury, this in the two main cities and along and width of the 33 km Tourist Corridor that divides San José del Cabo from Cabo San Lucas.
Cabo San Lucas is located in the last meters of the peninsula, where you can see one of its most important natural beauties: "El Arco", which rises majestically exactly where the Sea of ​​Cortez and the Pacific Ocean meet its waters .
Its beaches, nightlife, international cuisine, shopping malls and the pleasant treatment of the residents complement a range of possibilities with all the required characteristics and the best service for the tourist to pass unbelievably.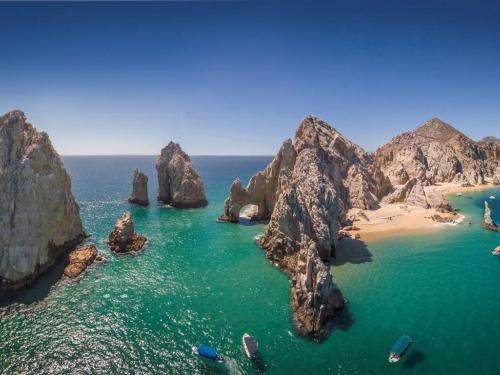 Activities
Cabo San Lucas offers a wide range to enjoy its natural resources. Read more about the activities.